Wencheng has brought Buddhism to Tibet, she is part of the foundation story of Tibet. 
Today she is revered as the white Tara, the female Buddha. 
Wencheng was the daughter of Emperor Taizong of the Tang Dynasty, she was married as a pledge of peace with Songstan Gampo the first Dharma King of Tibet.
When? 629 to 680 A.D. ......... Where? Tibet
How?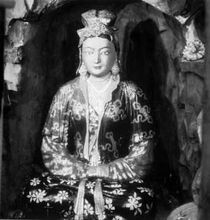 Princess Wencheng  was a niece of the powerful Emperor Taizong of China's Tang Dynasty, who left China in 640, according to records, arriving the next year in Tibet to marry the thirty-seven-year-old Songtsän Gampo (605?–650 CE) the thirty-third king of theYarlung Dynasty of Tibet, in a marriage of state as part of a peace treaty along with large quantities of gold. She is popularly known in Tibet as Gyasa, or 'Chinese wife'. 
The princess is portrayed as a Buddhist and, along with Songtsän Gampo's Nepalese wife, Bhrikuti Devi, is said to have introduced Buddhism to Tibet.
A statue of them is venerated today in Jokhang Temple in Tibet.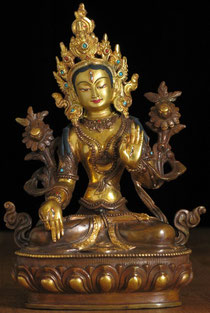 Today Wencheng is seen as the emanatión of the white Tara
she is the female Buda. 
The white Tara is known in most buddhist communities and other currents
More information: books, films, etc.