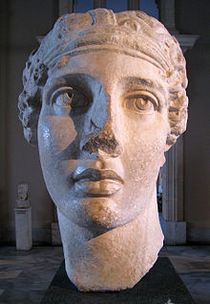 Sappho was a Greek lyric poet, born on the island of Lesbos. The Alexandrians included her in the list of nine lyric poets. The bulk of her poetry, which was well-known and greatly admired through much of antiquity, has been lost, but her immense reputation has endured through surviving fragments.
Sappho's poetry centers on passion and love for various people and both sexes. The word lesbian derives from the name of the island of her birth, Lesbos, while her name is also the origin of the word sapphic; neither word was applied to female homosexuality until the 19th century.
An epigram in the Anthologia Palatina ascribed to Plato states:
Some say the Muses are nine: how careless!
Look, there's Sappho too, from Lesbos, the tenth.
when? between 630 and 612 BCE until 570 BCE ...... where? Lesbos, Mytilene
how?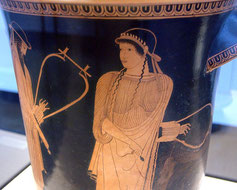 David Campbell has briefly summarized some of the most arresting qualities of Sappho's poetry:
Clarity of language and simplicity of thought are everywhere evident in our fragments; wit and rhetoric, so common in English love-poetry and not quite absent from Catullus' love poems, are nowhere to be found. Her images are sharp—the sparrows that draw Aphrodite's chariot, the full moon in a starry sky, the solitary red apple at the tree-top—and she sometimes lingers over them to elaborate them for their own sake. She quotes the direct words of conversations real or imaginary and so gains immediacy. When the subject is the turbulence of her emotions, she displays a cool control in their expression. Above all, her words are chosen for their sheer melody: the skill with which she placed her vowels and consonants, admired by Dionysius of Halicarnassus, is evidenced by almost any stanza; the music to which she sang them has gone, but the spoken sounds may still enchant.
Sappho's poetry and Greek myth
Out of over 200 remaining remnants of Sappho's poetry, Fragment 16 and Fragment 44 in particular are considered lyric retellings of Homer epics, as Sappho was known to be very familiar with Homer's poems. Both fragments make direct allusions to scenes in Homer's Iliad, while Sappho also expands them with her own narrative illustrations. Fragment 16, for instance, serves to characterise Helen, a key figure of Homer's, while Fragment 44 glorifies domestic joy by depicting the events leading to the wedding of Hector and Andromache.
Whereas Homer focused depicting beauty through the glory of militarism, however, Sappho focused primarily on the portrayal of beauty through love. As oratory poets, both Homer and Sappho used their work to celebrate and memorialise events for posterity. The exigency of their verses was therefore to preserve information as well as to entertain.
Her work is known to have been canonized during the 3rd century BC, at which time papyrus copies were held in the House of the Muses, the library in Alexandria. Like the myths woven into her work, a myth surrounds the loss of Sappho's complete oeuvre as well. The story still circulates that Sappho's poems were lost due to the repeated attacks on the library in Alexandria.
more information: books, films etc.