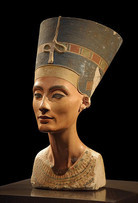 Co-Regent of upper and lower Egipt together with Echnaton at the time of the biggest revolution in the ancient egypt   1370 BCE – ca. 1330 BCE
Nefertiti  was the Great Royal Wife of the Egyptian Pharaoh Akhenaten. Nefertiti and her husband were known for a religious revolution, in which they worshiped one god only, Aten, or the sun disc.
After Akhenaten death,  Nefertiti ruled briefly as Pharaoh Smenkhkare.
Nefertiti (Beauty of Aten, the Beautiful one has come) is best known by the bust in limestone and gypsum, which is exhibited in the Egyptian Museum in Berlin.  The name bears the title of Great Royal Wife and mistress of the Two Lands. 
In the grave of Akhenaten she appears as mistress of Upper and Lower Egypt.
After the death of Akhenaten Nefertiti rules as pharao Semenchkare.
Read More
0 Comments