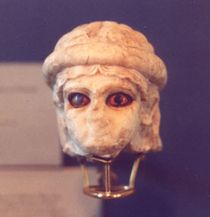 En-hedu-Ana was revered as the most important religious figure of her day.
She is the first author either gender known by name in human history, because she wrote the first texts that can be attributed to a person. 
She was the high-priestress during the reign of Sargon of Akkad (Sargon the Great). While Sargon of Akkad united Sumer and Akkad and conquered the first empire in history, Enheduanna melded the Sumerian with the Akkadian gods to create the stability the empire needed to thrive.
read here more about ......The Role of Women in Ancient Sumer 
Read More