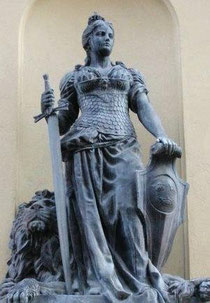 Blenda is the heroine of a Swedish legend (Blendasägnen) from Småland. Blenda led the rural women of Värend in an attack on a pillaging Danish army and annihilated the invaders.
Read More

Cynisca or Kyneska was a Greek princess of Sparta. She became the first woman in history to win at the ancient Olympic Games.
Cynisca's win in the Olympics had a great impact on the ancient Greek world as other women, especially Lacedaemonians, later won the chariot racing like Euruleonis, Belistiche, Timareta, Theodota and Cassia. However, none of them was more distinguished for their victories than she was.

This Spartan princess is frequently used until today as a symbolic figure of the social rise of woman.
Docu about the spartans, in it the story of Cynisca is told
Read More
15 Comments
Boudicca was a Queen and a Britannian army leader who in the early years of the Roman occupation led the Boudicca uprising and if they would have won, she would have changed the destiny of Europe.
Read More
0 Comments